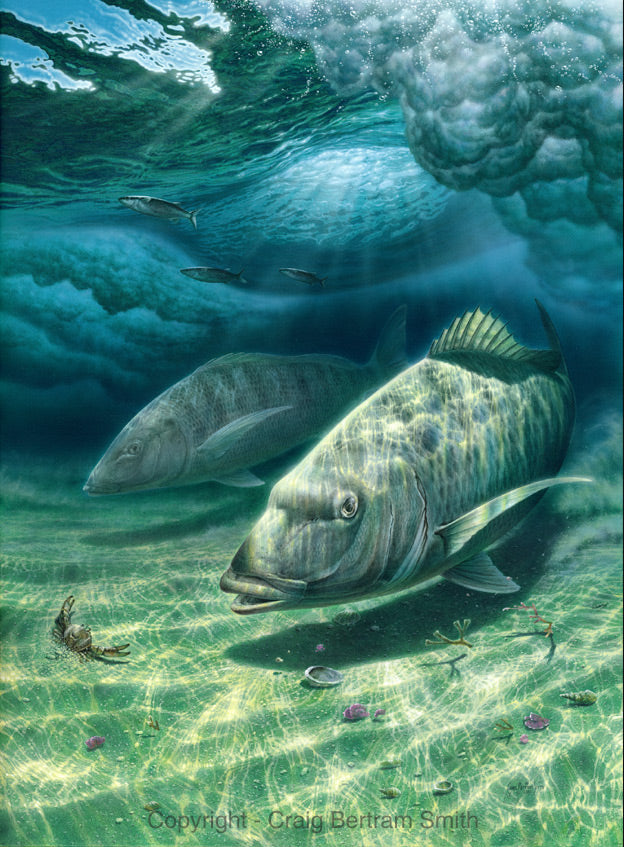 Diggin In
SOLD, original commissioned (76cm x 101cm (30" x 38") Acrylic on canvas)
Please contact craig@wildlifeartist.co.za for enquiries
© Craig Bertram Smith
The Cape coasts of South Africa, experience some of the harshest conditions in the country with strong winds and bad weather giving the water a characteristic murk of suspended debris and turbulence. Wind swept seas and ripping waves create an environment where only the toughest survive.
Also known as the pignose grunter, the white steenbras navigates, swims and feeds in these conditions with great ease. They are usually found in shallow turbulent water and estuaries. They are robust fish, mostly silvery gray with darker bars running down the back, and have a characteristic pignosed snout. They have a highly specialized feeding ability like its relative the spotted grunter's, of "snouting"and "blowing". They shove their elongated snouts into the sand and literally "blow" their prey out of the sand. They feed aggressively as they patrol the sandy turbulent shores for sand dwelling crustaceans.
In this painting I wanted to describe it's natural behavior by illustrating it's unique habitat and suggesting its feeding techniques. This painting presented a real challenge primarily because these temperate waters are mostly very murky and monotone. This resulted in a painting with a very limited colour pallet. I therefore enhanced the muted greens and blues to highlight main characters in the piece. I also echoed the shape of the steenbras in the ripples of the sand. I followed these shapes in the moving rhythms from the sand to the surface water.
Preliminary Sketch
---
---
More from this collection