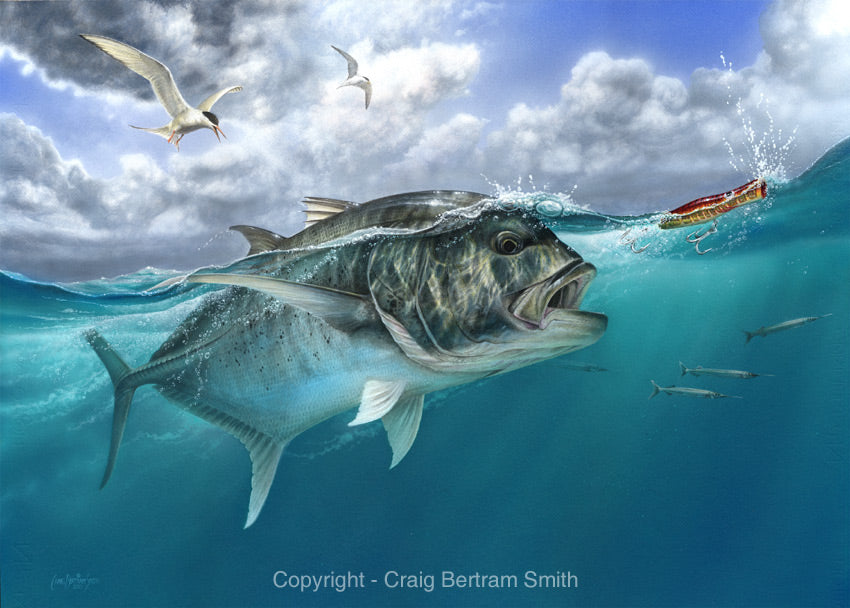 Iggy Pop
SOLD (70cm x 50cm (28" x 20") Acrylic on board)
Please contact craig@wildlifeartist.co.za for enquiries
© Craig Bertram Smith
The inspiration for this painting came from a trip I had to Mozambique's Hells Gate - a narrow channel of water that connects Maputo bay to the Indian ocean. Fishing off a rubber duck 100 meters from the shore, conditions were perfect, a pushing tide and as can be imagined the volume of water funneling through, became a washing machine of turbulent water. We popped live sardines on a surface trace with a float and cast in a section of extremely churning water pushing over a reef. The conditions created an ideal feeding zone for kingfish.
Three or four large GT's were spotted and seconds later I had a massive surface hit on my helpless sardine. The battle was on! It was a struggle just keeping it away from the reef, as meters upon meters of braid were being peeled off - a miracle it never broke me off. The legendary strength of an Ignobilis is phenomenal and after 20 minutes my prized fish was landed. A few quick photos were taken and then the brute of a fish was released.
The conditions, weather and just the memory of watching that large GT smashing into the bait at the surface was something that will be with me for a very long time. Earlier this year I started working on a concept for a new GT painting. It would be a popping scenario as I envisaged the fish swooping onto a Darkstar skipjack popper. While working through the concept with the help of numerous video & photographic footage and conversations with GT fanatics, the challenge was on. As is the difficulty with most of my paintings, that actual shot (the fish at the moment of impact) was inaccessible and still is! I had to visualize the scene using what reference I had in photographs and video clips and making pencil studies to understand the fish's movement, colours and attitude. The lighting was also a challenge and by trying different options in my sketches and in the painting, a composition was visualized and the scene was put together.
---
---
More from this collection