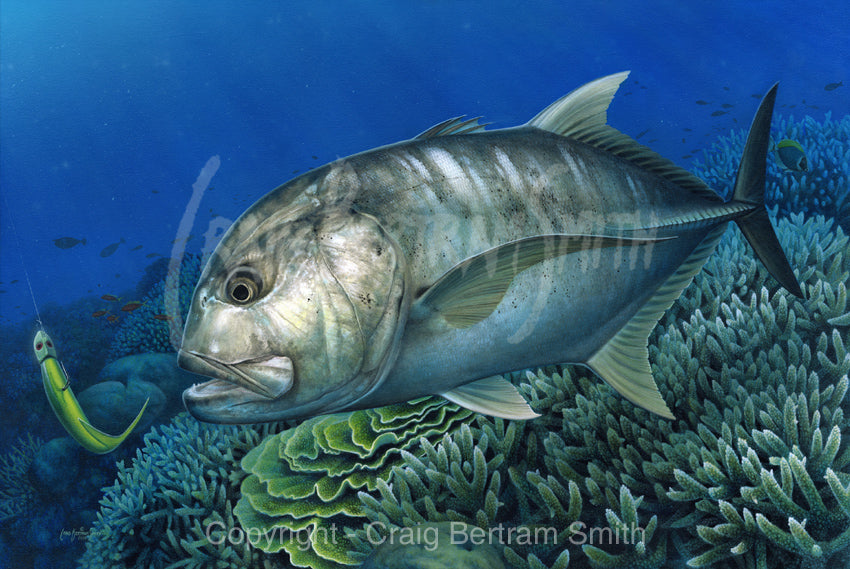 Ignobilis
SOLD, commissioned (90cm x 60cm (36" x 24") Acrylic on board)
Please contact craig@wildlifeartist.co.za for enquiries
© Craig Bertram Smith
There are many big reef predators, such as blacktip reef sharks, great barracuda and grouper, but few that demand an angler's respect like the Giant Trevally. When it comes to overall demeanor and aggressive feeding, the giant kingfish or giant trevally (GT) is the real deal.
GTs are mostly found around structure of varying depths and will patrol coral reefs, constantly on the move, in search of prey.
Craig welcomed the opportunity to paint one of his favourite predators. This commissioned piece was done to depict a scene, often experienced offshore, but rarely seen. The painting aims to put the viewer in the moment that the GT pounces on a lure.  In the early stages of the painting Craig started with more neutral tones and then built up the colours and details until the required effect was achieved. He focused on the different textures of coral and detail in the fish itself and then contrasted it against the deep blue haze of the background.
---
---
More from this collection