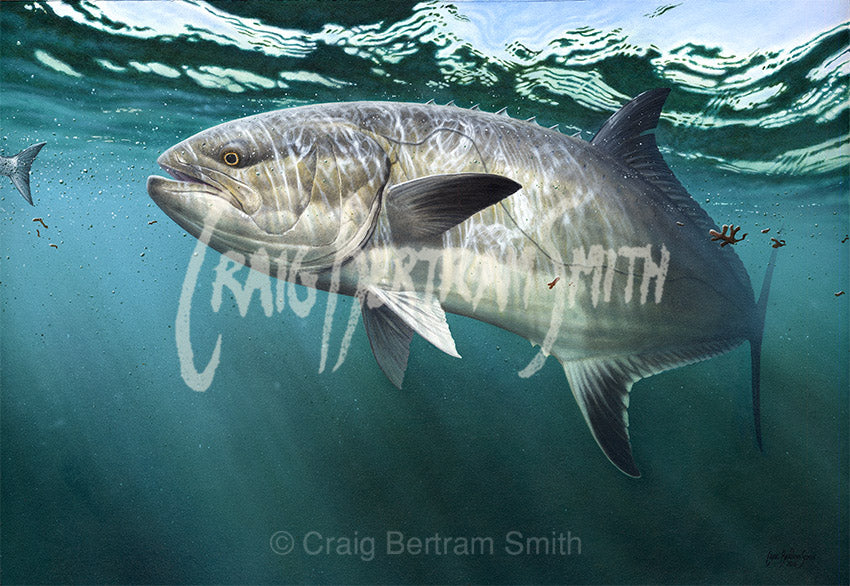 Leerie in Pursuit
Original painting is available (60cm x 42cm (24" x 16") Acrylic on board)
© Craig Bertram Smith
Please contact craig@wildlifeartist.co.za for enquiries or if you would like to get a commission painted.
Being a top predator this powerful fish is in constant search for its prey, always on the move. In the summer months, it predominates in the Eastern Cape waters off Southern Africa and in the winter they follow the sardines as they move up the Natal coastline. The larger leervis can be elusive, and difficult to track, and fishing for them is often hit and miss, but the constant hope of hooking one on the next fishing outing is what keeps us going back. 
I have painted and drawn a number of artworks of the beautiful garrick but I really wanted to paint a much more detailed piece this time. With my constant study of dappled lighting, I wanted my leerie hunting at the surface where the light's rays are strongest, giving me the opportunity to play around with lighting effects. I also wanted the water to be slightly murky, not only to suggest the typical Cape water, but to add an element of intrigue to the painting complete with suspended particles and bits of seaweed.
---
---
More from this collection