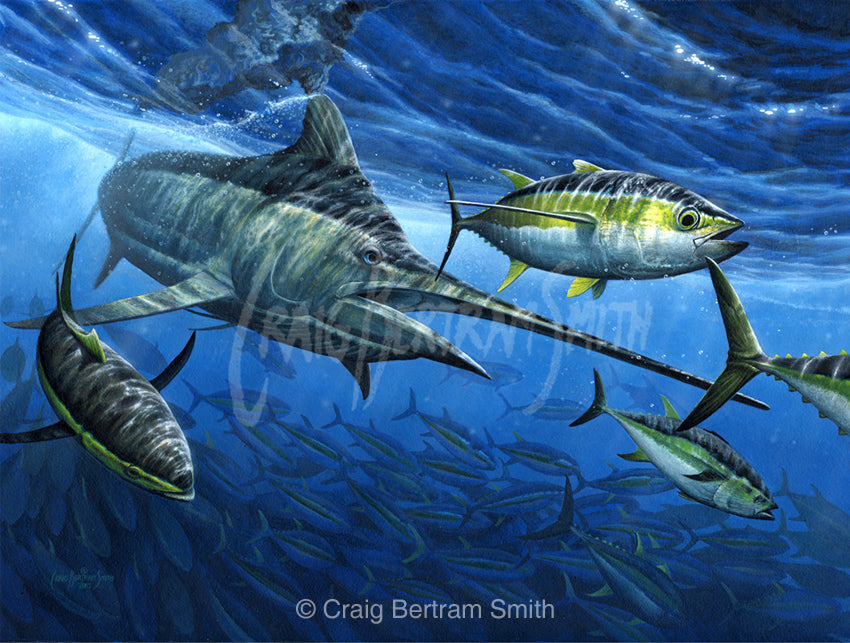 Perfect Foil
SOLD (50cm x 37cm (20" x 14") Acrylic on board)
Please contact craig@wildlifeartist.co.za for enquiries
© Craig Bertram Smith
The black marlin is one of the largest and fastest predatory fish in the ocean. Its impressive size, strength and physique
make this fish a premier angling species among sport fishermen.
The fish's real beauty can be seen when one encounters them in their natural habitat, especially if you are fortunate enough
to witness them hunting underwater. The black marlin is a fish perfectly designed for life in the open ocean, where it cruises
effortlessly in search of prey. Its deeply forked sickle-shaped fins and robust body ensure that it is able to chase down
even the quickest and most agile of prey including tuna, dorado and mackerel.
Perfect Foil portrays the black marlin's power as it charges into a large shoal of yellowfin tuna. 
---
---
More from this collection