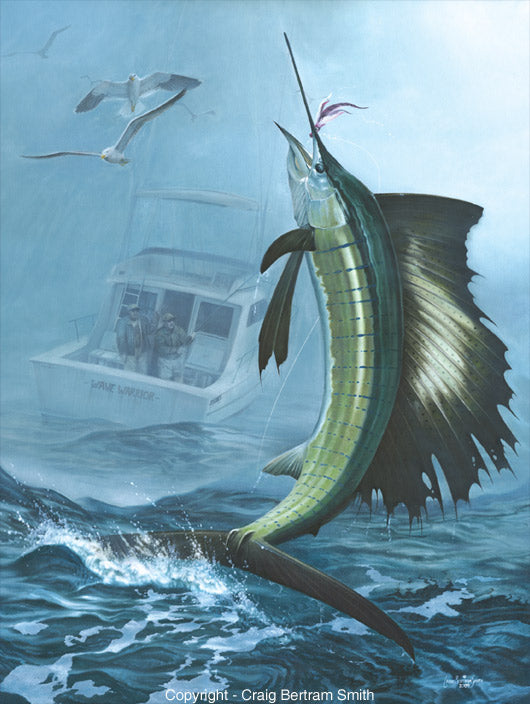 Sailfish Launch
SOLD (76cm x 101cm (28" x 40") Oil on Canvas)
© Craig Bertram Smith
Please contact craig@wildlifeartist.co.za for enquiries or if you would like to get a commission painted.
In my latest oil painting, I wanted to take the viewer into the world of high swells, wind, rain and leaping billfish. A world that in it's grandness can leave one awestruck, not only for the wondrous creatures but also it's impressive power.
The fastest fish in the sea, sailfish are just one of many oceanic inhabitants that evoke vivid images of the tug-of-war between fishermen and blue-water brute. A battle that usually results in bruised egos or broken tackle. They symbolize power, speed and agility that few other game fish can match. A hook-up with a sailfish can leave you with some of the most memorable fishing.
Craig wanted to depict the sea and environment "alive", ever-changing and tangible. The fishing boat is pictured being fragile against the rising and falling swell. The misty rain, creating the mood, draws the eye past the boat only to be brought back into the picture by the presence of the sailfish rising diagonally, piercing through the mist.
The sailfish, being the focus, had to be painted in great detail with the characteristic "Sail" fully outstretched. The fly, tossing as the fish tries to rid of it, allows the viewer to derive their own result. The sight of gulls indicates a presence of bait-fish that are close to the surface.
---
---
More from this collection